Radi and WebGL
From RadiWiki
In version 0.9, Radi can publish realtime visual effects for Canvas and Video elements.
The Radi + WebGL demos can be found on the Radi site.
Using element effects
The best way to get familiar with WebGL effects is to try them yourself in Radi.
One of the Radi WebGL demos is available in Radi project format, so you can try it yourself:
Peeking Bird WebGL demo project (zip file)

Within the project, the filter is applied to the element named bird animation canvas. Click on the element in the Radi timeline, and look in the Inspector window for the WebGL settings: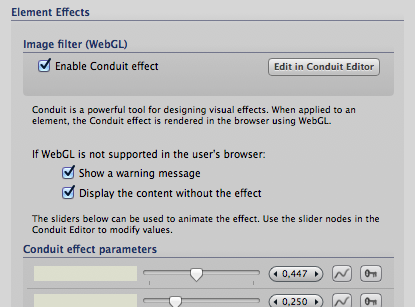 The default filter is an orange tint controlled by a slider. Click on 'Edit in Conduit Editor' to view it: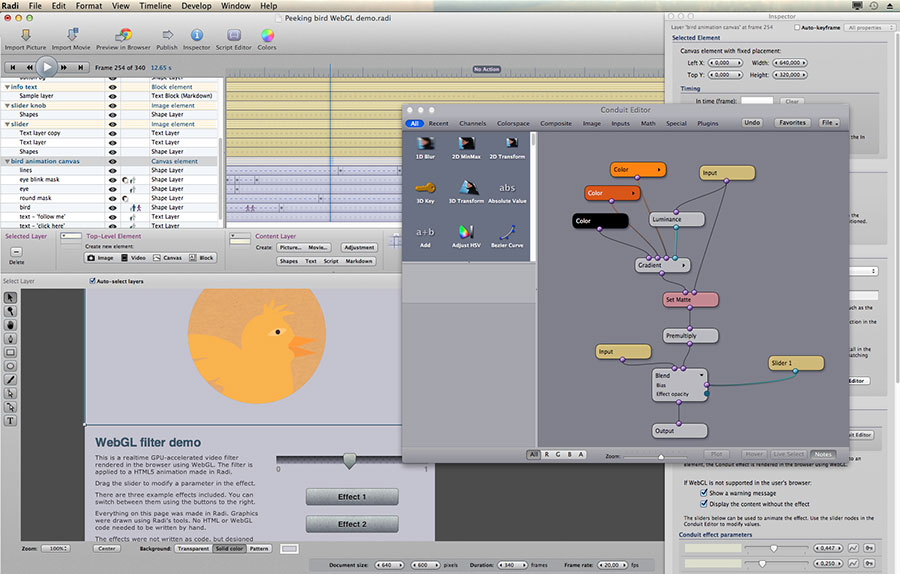 Sorry, this help is still incomplete... To find out more about Conduit in Radi, check out Tutorial of the elements in the Radi guidebook.
Other resources
Learn HTML5 Multimedia With Radi - the Radi guidebook